Open Innovation Submission Portal
Next Generation Pallet Boards
Request Number 150034 | Author PepsiCo
Description
PepsiCo seeks innovative suppliers for pallet boards suitable for use in its production and warehousing efforts.
Background
PepsiCo currently uses pallet boards made of Oriented Strand Boards (OSB) when warehousing products and goods in its facilities. Many of these pallets are currently made of 7/8" thick 9-11 ply fir or hardwood CC grade veneer core plywood and, while widely used in multiple PepsiCo production facilities, are susceptible to damage from other equipment including chains, brackets and forklifts (see images below for examples of damaged pallet boards).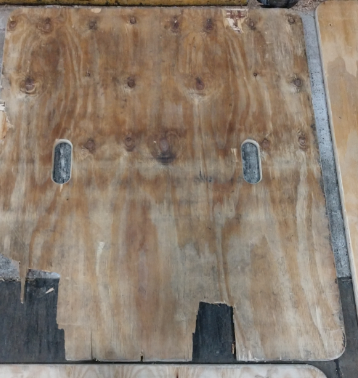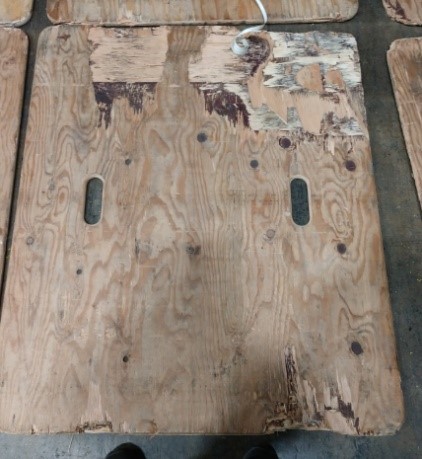 At present, a single pallet board has an average functional life span of 3-6 months.
To improve operations and reduce waste from damaged pallet boards, PepsiCo is interested in a composite pallet board. While the board can still be OSB, composite boards with other materials (such as plastics or aluminum, could be added for increased strength and resiliency) are of primary interest as long as there is no negative impact on recyclability.
While PepsiCo is primarily interested in pallet board technologies that are commercially available, earlier stage technologies are of interest, provided viable development pathways exist.
Key Success Criteria
Physical Parameters:
Long dimension:

49 3/4 inches minimum
50 inches maximum

Short dimension:

41 3/4 inches minimum
42 inches maximum

Board Height - 3/4" inches maximum
Corners: 1/2 inch rounded profile
Weight: 40-60 pounds
Handholds may be present (see attached schematic for placement)
Material Parameters:
100% wood OR composite wood and other material(s)

Woods: any suitable for this application
Composite materials: aluminum or plastics

• Post-usage: board must be recyclable
Must-Have Performance:
Suitable for transfer by suction cups
Resistant to damage/failure along board edge and along areas in contact with transfer equipment (i.e. chains, brackets or forklifts)

Achieved by material and/or design changes

Durability greater than current pallet boards: minimum 4 years
Manufactured as per ANSI/APA standards – APA Voluntary Production Standard PS1
APA Rated Sheathing Structural I
Support loads of up to 2,500 pounds.
Nice-to-Have Performance:
Durability equal to or greater than 100 life cycles
Weight < 40 pounds
Nothing moveable or bolted on the board
Possible Approaches
PepsiCo is open to all pallet board technologies capable of meeting the desired performance criteria noted above.
Approaches not of interest
Medium Density Fiber boards
Boards that cannot support intended weight
Boards that cannot meet desired operational life span
Boards that cannot be recycled post-usage
Preferred Collaboration types
To Be Negotiated